Are you a burger enthusiast? We bet you are! Burgers are some of the most delicious and complete meals that one can get for themselves. Loaded with the right amount of sauces, vegetables, and meat, burgers make a complete meal with just what you genuinely need for yourself!
These days all sorts of people are customizing their foods and coming up with the best flavors possible! From making pineapple pizza to no-bun burgers, we have a variety of flavors for everyone! Let's discuss Cajun Burgers and how to make them.
Cajun Seasoning
Louisiana, the home of delicious Cajun seasoning, is the place that's brought us all this fantastic flavor. The world loves different spices, and the blend of new flavors is the most welcoming for foodies across the globe. The Cajun seasoning is also a blend of some fantastic spices that leave you spellbound.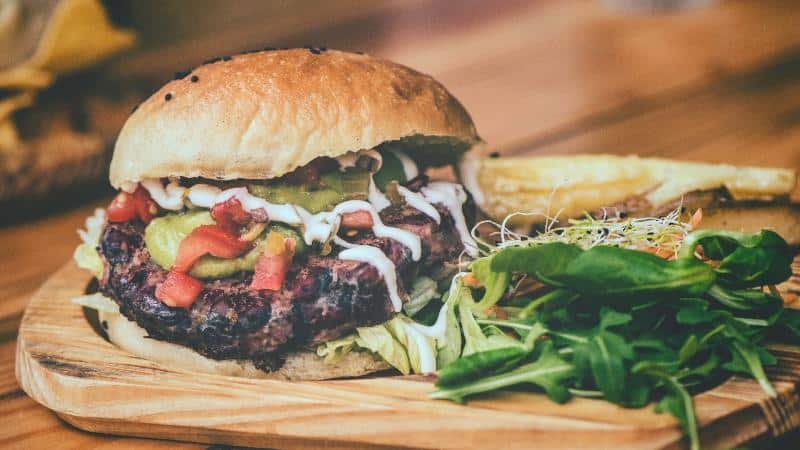 It is a bold, spicy flavor that blends paprika and cayenne peppers to bring you an out-worldly experience. The bold spice is blended with an earthiness from the subtle flavor of garlic, onion, and herbs!
Let us look at a few basics' spices of the Cajun Seasoning:
They include some of the essential black pepper, white pepper, cayenne pepper, onion powder, garlic powder, and paprika. Some Cajun spice mixes include salt, mustard powder, Chile peppers, or cumin for different flavors.
This rainbow of a blend of spices comes together to bring you Cajun seasoning.
Cajun Burgers
Have you ever had Cajun burgers? Let us tell you how to make this heavenly deliciousness for a rewarding experience for your taste buds.
Cooking time:
Around 20 minutes.
Ingredients:
Let's make the seasoning first! If you can buy a packaged seasoning, that's great, but if you would instead try it at home, let's see how to make it!
For a homemade Cajun seasoning:
Three tablespoons of ground cumin
Three tablespoons of dried oregano
One tablespoon of garlic powder
One tablespoon paprika
Two teaspoons of salt
One teaspoon of cayenne pepper
Burgers:
½kg of minced beef
1/4 cup of onion diced finely.
One teaspoon of salt
One tspCajun Seasoning (find the recipe above)
1/2 to 1 tsp ofhot sauce
1/2 tsp ofdried thyme
1/4 tsp ofdried basil
1-2garlic cloves chopped
Four burger buns
Caramelizedonions, optional
Preparation:
Let's start with the seasoning. You can take all the seasoning flavors and blend them all. Put them in a plastic bowl and mix them well together.
Now, let us move towardthe second most crucial ingredient: Patties! In another bowl, combine the burger ingredients and mix them up super well. You will be taking the ground beef and mixing it up with finely chopped onion, the salt, the Cajun seasoning blend, the hot pepper sauce, dried thyme, basil, and the minced garlic.
Take the meat and shape it into fine round patties. Start frying them on medium heat one by one. Make sure that it is tender and reaches a perfect light golden crisp. Take your meat and fry the juicy red goodness to medium gold. You can customize the flavors in whatever method you like. Just grab the meat,and let us get to the assembling of everything!
You can also grill the buns or heat them on the pan for half a minute, warmed up with a light crisp.
Assemble all the ingredients, and you can place the onions on top of the buns after assembling if you want.
Serve hot and enjoy with friends and family!
Burgers All the Way!
People these days are experimenting with all sorts of foods and breaking the barriers of traditional cooking styles! From a no-bake cake to fried, grilled, and steamed burgers. Foodies love it all.
You can now grill your burgers for the flavor's smooth, tender, and softness. You can also steam the patties and vegetables for an unhealthy and fresh flavor that is healthy and organic. Some people also like it fried! For that extra crispiness, you can fry your patties a medium gold, sauté your vegetables for that balance of flavors, and grill the buns for the extra punch of the flavor.
You can always experiment with new flavors and develop the best variant of what you truly love the most. Food is all about enjoying it in the best possible way. Let us give you a few food trucks to make your burgers even more delicious.
Celery
Celery is one of the most important components of your burgers. It adds that extra-special crip that everybody loves. You can make it much crispier by soaking it in cold water. It adds that extra crisp and makes your burgers much more delicious to have! Nobody will even guess how that extra crisp was achieved, and everyone will love it.
Patties
The patties are THE most important part of the burger, and we have mentioned it repeatedly. But the one thing that is possible to go wrong with patties is that they shrink up to turn into a puck, which takes away the idea of an ideally perfect Cajun burger at home. For beginners or even burger enthusiasts struggling with the perfect burgers at home: this trick is for you!
Press a dimple into each patty! This simple trick will save your patty from turning into a puck, and you can enjoy an entire patty loaded with the extra flavors for yourself and the people all around you.
Our Final Thoughts
We hope that you enjoyed reading this Cajun Burger Recipe! Give this recipe a try and enjoy it with your friends and family. Everybody will love what you are making, and you can pack it up for picnics and family dinners, and all children and adults will positively enjoy this recipe.
Ensure that you give all the credit to the fantastic Cajun spice and give it the credit it deserves. If anybody asks, you may share your secret and give it away: Food is about sharing happiness, and burgers are specifically. Hence, you make the best of friends while enjoying the perfect blend of flavors with everyone!